Gladiator - Penguin Readers Level 4
Published by: Pffy (Karma: 783.85) on 7 March 2007 | Views: 16132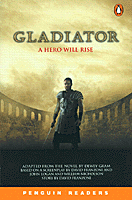 Gladiator


Penguin Readers Level 4 (1700 words)



General Maximus is admired by his men and by the Emperor Marcus Aurelius. But when the Emperor's son murders his way to the throne, Maximus goes into exile. He is captured by slave traders and forced to fight as a gladiator. When the Emperor arranges a gladiator spectacle, Maximus' chance for revenge has come.
A spectacular epic film of courage and revenge depicting the splendours and cruelties of ancient Rome directed by Ridley Scott and starring Russell Crowe.
Additional materials from Penguin
Audio
Not registered yet? We'll like you more if you do!
Dear user! You need to be registered and logged in to fully enjoy Englishtips.org. We recommend
registering
or
logging in
.
Tags: Maximus, gladiator, revenge, Emperor, Readers, Penguin